WHM 11 setup series
13. How to complete Initial Setup on a DNS ONLY install of WHM
If you or your host just finished installing WHM DNS ONLY, the Initial Setup screen shown here should be the first thing you see after logging in as the root user.
The DNS ONLY Initial Setup process is exactly like that of a normal installation, with several settings cut out.
If this isn't what you see when you log in, someone has already completed the Initial Setup process. Skip to the next tutorial.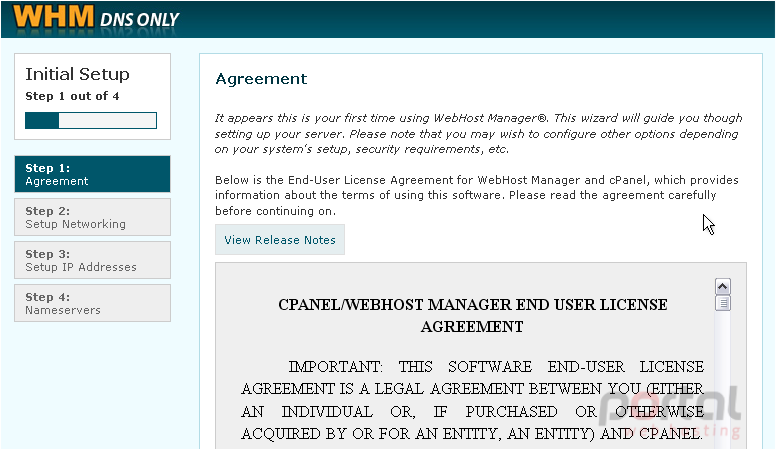 Note that if you make a mistake here, there's nothing that can't be fixed later in WHM. Do try to enter the correct information whenever possible to save yourself some work later on.
1) Read over the license agreement, then scroll down.
2) Agree to the EULA to proceed to Step 2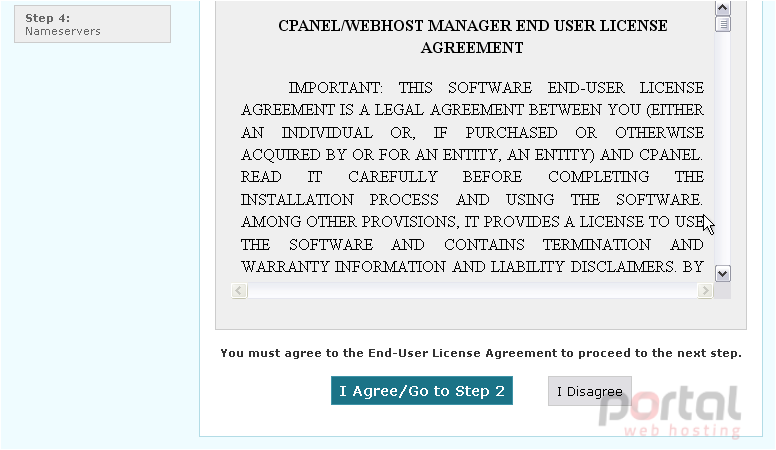 3) First, fill in all the contact information you want. You will be contacted using this information if a problem arises with this server.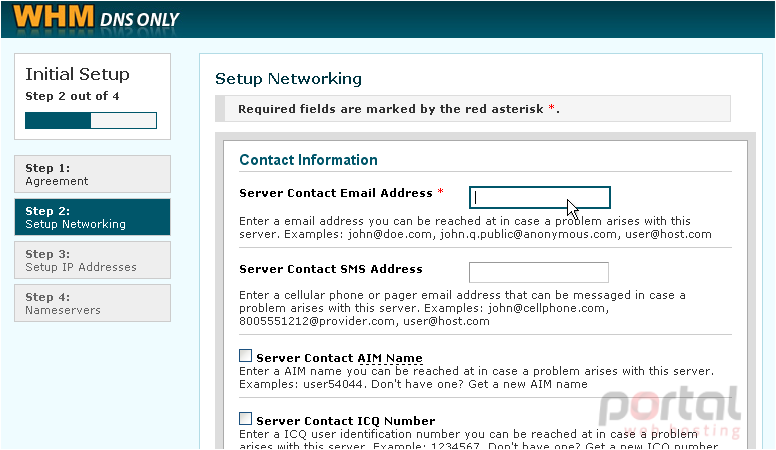 You must enter at least an e-mail address. It's generally best not to use an e-mail address whose DNS records you intend to host on this server. You can also supply a cell phone or pager e-mail address, an AIM Name, or an ICQ Number for the server to contact in case of problems.
Near the middle of this series, you will see how to configure the kinds of notifications you wish to receive at each of these addresses.
4) Ensure that the server's hostname is correct. It must be in the correct format, as described above.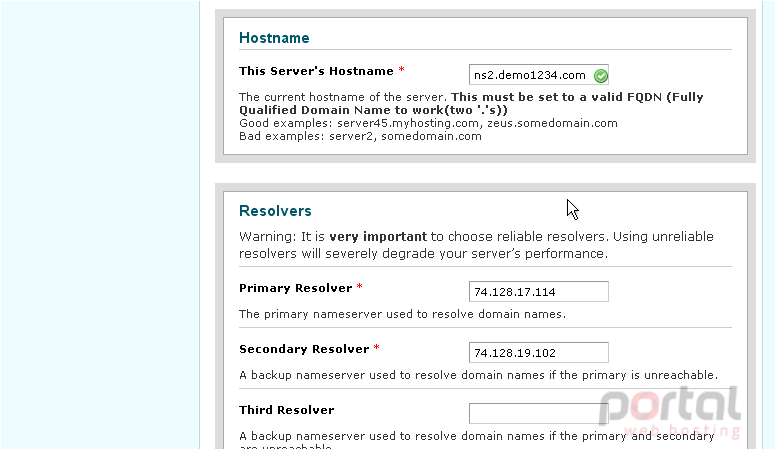 As you can see, the server we're currently setting up is going to be our secondary nameserver, NS2.
5) Next, you'll need to verify that at least two valid DNS resolvers have been specified. Be warned that using incorrect or unreliable resolvers will severely degrade your server's performance. If you're not certain which IP addresses to use, contact support.
The correct ethernet device should be selected already. If you know this is not the case, select a different one from the menu.
6) When finished, move on to Step 3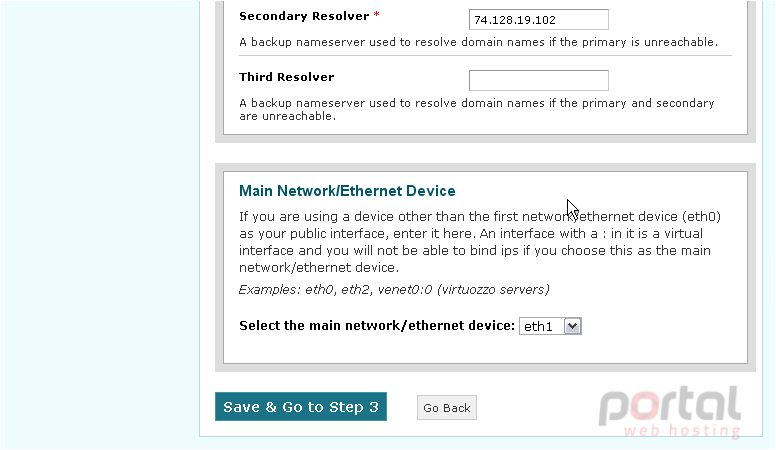 We don't have any additional IPs for this server, but you can add some now if you like. The main IP address has already been configured, and that's all that's necessary.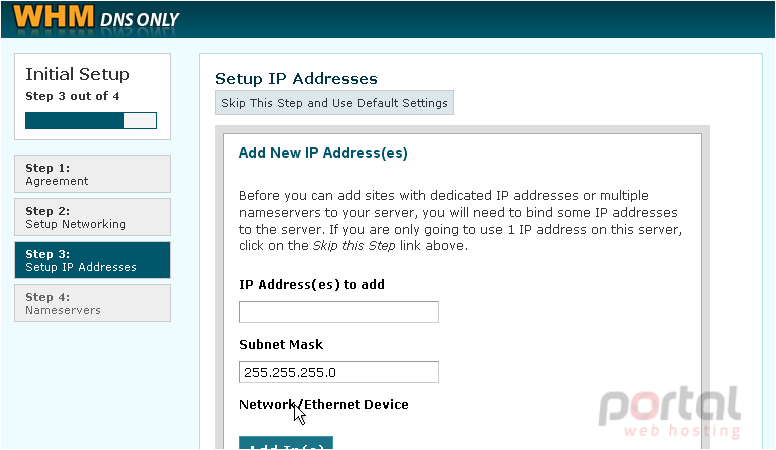 Extra IPs can be obtained from your hosting provider, if you don't have some already. Note that you cannot add IP addresses on a VDS using WHM, SSH, or any other method that works for dedicated servers. This must be done from within the host server's control panel.
7) If you won't be adding any additional IP addresses, click Skip This Step
As described on this page, a nameserver is a program that maintains a list of your domain names and their corresponding IP addresses. Without nameservers, visitors wouldn't be able to find the domains hosted on your main server(s).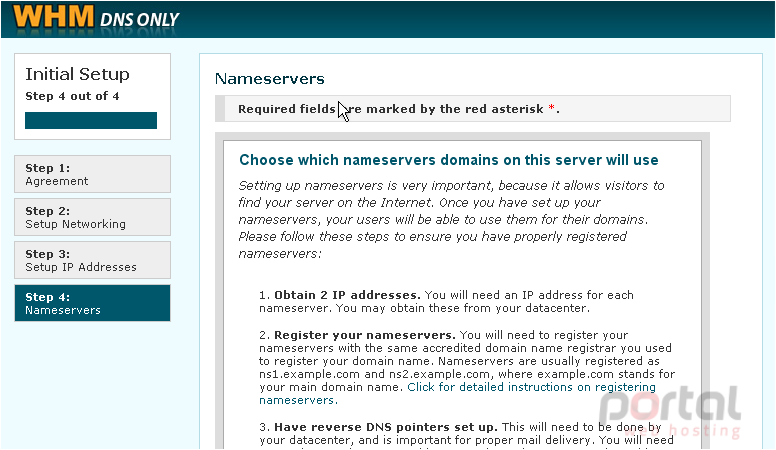 8) In order to set up nameservers, you'll need an IP address for each one. You'll also need to choose a hostname for each one and specify them both at your domain's registrar. Be sure to create hosts for the nameservers rather than just regular subdomains.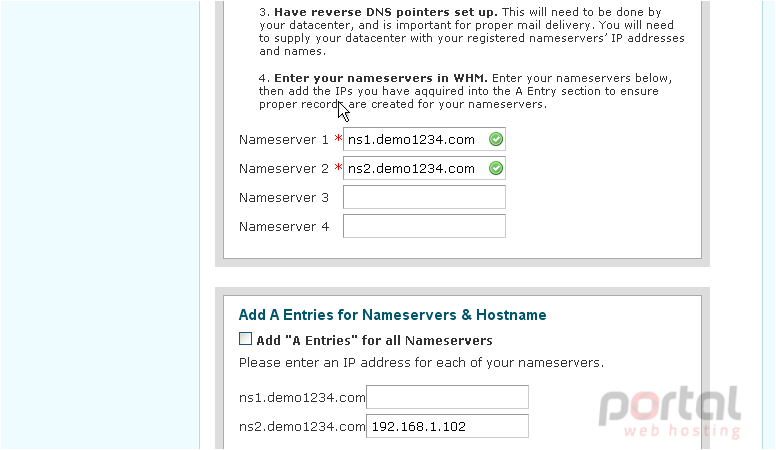 Then, make sure the main domain name is set to use the correct nameservers. For us, NS1 and NS2.demo1234.com should be hosts on our domain as well as the nameservers for the domain.
9) When you've got that all sorted out, enter your nameservers' hostnames above.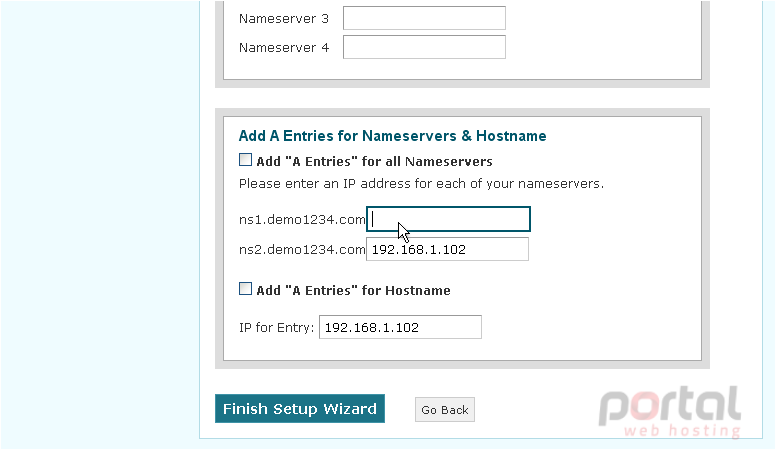 10) Verify that all of the IP addresses listed here are correct. Then, click each checkbox to add "A Entries" for all nameservers and the hostname, assuming they haven't been created already.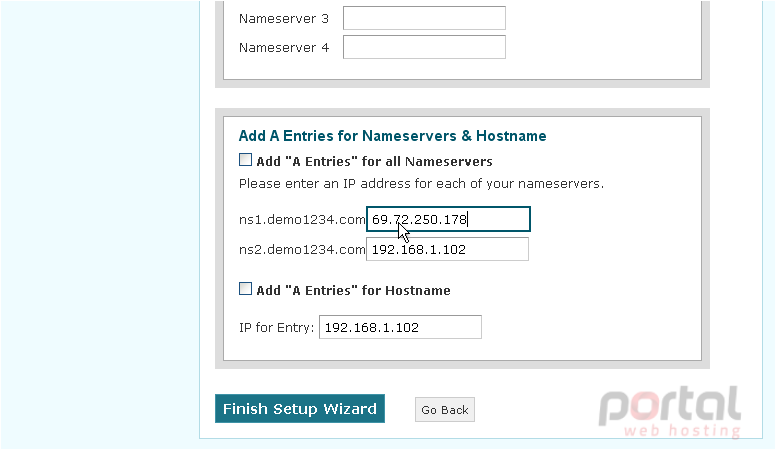 Notice that we'll be using the same IP address for Nameserver 2 and this server's hostname. If this is also your case, you shouldn't click the checkbox to add an A entry for the hostname; the entry will have been created already.
11) We'll enter our main server's IP address here. It will also act as NS1.
12) Click Finish Setup Wizard to proceed to WHM.
This is the end of the tutorial. You now know how to complete the Initial Setup process for a DNS ONLY server.
In order to keep this nameserver's DNS records in sync with our main server(s), we'll have to set up what's known as a cluster.
For further details on how to use WHM DNS ONLY and add servers to a cluster, watch the tutorials that follow.