What does it mean to host a website domain and host the website itself? When you talk to the professionals at Portal Web Hosting, you will be able to get information on some of the best domain and web hosting services available. In order to maximize your domain and web hosting packages, you need to understand the difference between the two and how you can tell a good plan from a bad one.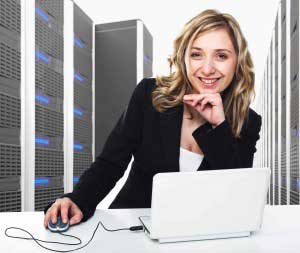 Your website domain is the address people use to find your site. It used to be that a .com domain was the only way to go. But these days, there are a lot of different types of domains to choose from.
The key a strong domain hosting service is the ability to avoid downtime and keep the site available when customers need it. Portal Web Hosting has the most reliable servers in the industry, and we work hard around the clock to make sure that your website is always there for your customers and your prospects as well.
A good domain host also helps to keep track of all of the records that are needed to make your website accessible to the search engines. It is easier to get your website listed high on the search engine results pages when the search engines can find the information they need about you and your host.
When you use the domain and web hosting services at Portal Web Hosting, your website will be parked on our servers. That is just a fancy way for saying that you are using us as your domain and web host.
A good web host has all of the tools you need to make the most of your website. The Portal Web Hosting service has tools that can help you to manage your website and create the email addresses you need to give your company a professional look.
Web hosting is the service that actually displays your pages and allows you to make any changes to your website that you want. Reliable web hosting is critical to the success of your website.
What Can You Expect From Your Host?
The domain and web hosting services from a reliable provider such as Portal Web Hosting come with a series of important features. Most website owners find that good customer support is critical in keeping a website up and going. Portal Web Hosting offers several ways to contact support including a toll free phone number, a live chat option, and email.
Another helpful service that is offered by a good domain and web hosting company is the ability to accommodate all of the important apps that you will need to create and run your website. Apps for features such as WordPress, PrestaShop, and others are critical in making sure that you are able to get business done efficiently.
It Is Not Always About Business
One of the best ways to determine if a domain and web hosting service is the right one for you is to find out just how much support you get when you are not a business. Some people just want to share their hobbies or interests with the world and a good host needs to be able to accommodate those needs.
Portal Web Hosting has plenty of support and hosting features and services that will help you to put your personal website on the Internet and share your interests with the world. A good host will walk you through the entire process and then offer follow-up information whenever you need it. The Internet is not reserved just for businesses. There is plenty that each person can say with their own website.
Talk To A Professional Web Host Today
Portal Web Hosting has been helping businesses and individuals to get their content onto the Internet for a long time. When it is time to decide on a reputable and reliable web host, then we invite you to give us a call.
A good web hosting service has everything you need to make your website accessible to the entire world. When you think about everything you can do with a good website, it makes choosing the right host even more important.